BUS SERVICE
---
2020 Bike Rack Update
Bike racks will NO LONGER be available for runners. Please plan to ride the bus or carpool.

NO AMOUNT OF TRAINING CAN PREPARE YOU FOR THE BUS WAIT.
Runners Packets will have detailed Bus Stop Information.
We strongly encourage and promote the usage of the complimentary shuttle buses (The B). The B shuttles are a COURTESY of the Corpus Christi Regional Transportation Authority and are the most effective method of transportation to your starting position. Be aware that not all Beach to Bay legs have bus service.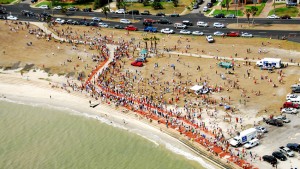 Please keep in mind that race day traffic will be heavy, so please expect delays and try to be understanding. Any disrespect towards any shuttle operator or CCRTA employee, race official, runner, spectator or Beach to Bay representative will NOT be tolerated. Your team will be disqualified immediately if such behavior occurs! In other words, don't be a jerk!
As with all public transportation, buses run on a schedule, do not show up late and expect to be given a ride. Remember, that traffic congestion will be bad due to amount of vehicles sharing the roadways. Expect this and be understanding on your return trip on the buses.
Parents of minor children running the Beach to Bay Relay Marathon are welcome to ride along. Please remember that there is no bus transportation to McCaughan Park for the After Race Party.
Arriving early is crucial!
Race Day Bus Instructions